The missing link (missinglinkproducts.com) Skin & Coat Superfood Supplement is an easy-to-add daily powder that's been created with all natural, heart-healthy ingredients to nourish skin and promote a shiny coat. The formula still provides a base of freshly ground flax seeds with balanced omegas and now includes LactoSpore probiotics to boost absorption. Other new additions are Vitamin E to help nourish and protect sensitive skin and Biotin to calm and soothe dry skin and reduce itching and scratching.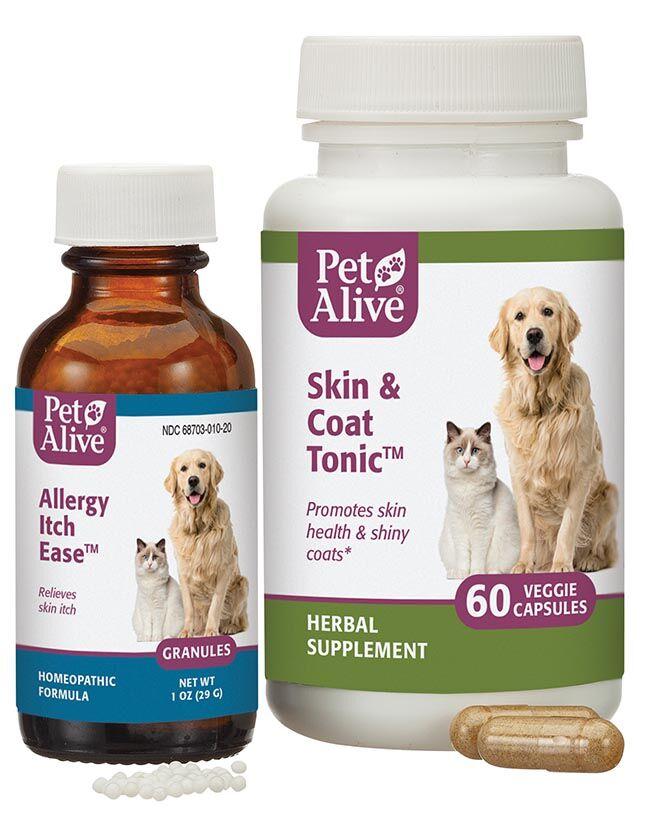 PetAlive's (petalive.com) Allergy Itch Ease is a safe, non-addictive natural remedy containing 100% specially selected homeopathic ingredients to temporarily relieve itchy skin and allergies, as well as to support the health and integrity of all skin cells and layers in cats and dogs. Additionally, its Skin and Coat Tonic herbal supplement is a 100% safe and non-addictive natural herbal remedy containing ingredients specifically chosen for their supportive function on the skin and coat.

Life Line Pet Nutrition (lifelinepet.com) Wild Anchovy and Borage Oil contain key ingredients to keep an animal's coat and skin in top condition. Of the entire Life Line line of fish oils, Wild Anchovy + Borage Oil contains the highest percentage of Omega-6 GLA to support dogs and cats with skin sensitivities. The fish oil is made from wild anchovies from the waters of the Southeast Pacific Ocean and high quality borage seeds.